I hope this is ok. I just wanted u guys to be aware that theres another place you can promote this RPG.

We Also allow Cartoon RPG Promotions. (IE. Xmen, Teen Titans, Superman, ETC)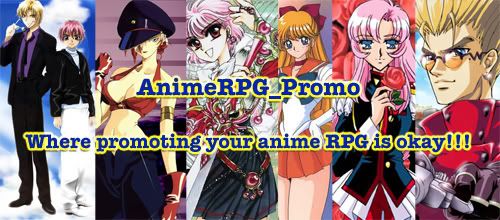 The Anime Roleplaying Promotion Community
If you have a new anime roleplaying community you would like to advertise - THIS IS THE PLACE!





RULES:

1) You may only post about your community once a week! Right now the posts are un-moderated but if this rule is abused I will begin to mderate them and enforce the rule.

2)Pictures: USE GOOD JUDGEMENT! If a picture is big or takes awhile to load, place it under a lj-cut. Try to Kkeep pictures under 500 pixels wide Again I have the authority to delete a post f the picture is too big.

3) DO NOT DIRECT-LINK!. No direct linking to "join community" so people are unknowingly joining your group. Get your members by their willingness to join. But if you link to the join community button, I will delete the post.

4) KEEP TO THE TOPIC! Don't post anything that isn't related to role-playing or anime. You may post about things that are slighty off topic IF AND ONLY IF it is under an Lj-cut and is attached with a Role-playing promo.




IF ANY OF THESE RULES ARE BREACHED YOU WILL BE WARNED AND BANNED FROM THE COMMUNITY. PLEASE FOLLOW THE RULES. THEY ARE SIMPLE!

HAPPY ROLEPLAYING!!!!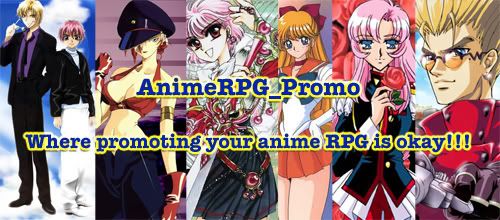 animerpg_promo
animerpg_promo
animerpg_promo